YOU ARE HERE
:
ONLINE SHOP
·
History
History
The early years (1985-90) | 01.04.1985
1985
Company founded on April 1st.

1985-1988
Software developments for Commodore C=64 and Atari computer:
Sound-Editors & -Adminstation, inter alia the world first editor for AKAI's S-900 Sampler.
1987-1990
Software sequencer for the Atari

1stTrack (full machine code): small, simple & very powerful. Ran as multi-background-task in our Editor software (as so-called SOFTWORKSTATIONS).
StarTrack: The only sequencer that could play multiple patterns in different speeds (Multi-Tempo).
DELIGHT: The extended successor.

No porting og above metoined software to PC or Mac.
Establishing the Department of "midimusic" | 01.07.1989
In July 1989 GEERDES midimusic started with about 500 Midifiles in the GM (General Midi) format. First, the titles were sold by postal delivery and directly in the office of course. Mr. Geerdes, thus increased the diversity of the products: not only software but also the corresponding content can now be purchased from us.

Contacts with the first music retail stores was taken at the Musikmesse in Frankfurt. The idea for the MMC-NET (= midimusic network) was born.

At the same time, the PCs took over the lead role in the domestic workplace and in recording studios. The translation of the recent software offerings into DOS or Windows 3.x versions had to be calculated carefully. The competition was extremely pushed by the magazines, so that ultimately the product Midifiles was set as the main product of the company.
The MMC-NET is connected to the telephone network | 22.05.1994
Opening of the MMC-NET: A free MMC-NET terminal software allows the download of DEMOS, online shopping - with account management - and provides an massanging system for the customers and som information-pages.

The MMC-NET uses normal telephone-connections (ISDN) and works very reliable.
Dealers receive production software | 15.01.1995
First MMC-NET COPYSTATIONS: sales stations for the trade. The CS system holds all the titles up to date in stock and is working offline economically. New products will be transferred online.

The MMC-NET is now working all over the world: Austria, Switzerland, France, Australia and Spain.
geerdes.de online (1997 & 1998) | 17.09.1997
1997
GEERDES music on the Internet: http://www.geerdes.de
In the 1st version: Mail order with shopping cart technology.
1997
Opening of the online shop
1998
Expansion of the online shop with online payment and online supply.
Midifiles now available in GS & XG format | 31.08.1998
GEERDES midimusic has started shipping two new Midifiles sound formats.

GS for Roland devices and XG for Yamaha devices.

The current archive will be expanded over time with the new formats. Customers have the option to get the new formats for previously purchased songs free of charge.
Lyrics-events for real-time display of text | 14.12.1999
Just in time for Christmas GEERDES midimusic expands the technical offer to the display of lyrics on devices that provide this functionality. The lyrics are synchronized syllable-exact within Midifiles.
Again the following applies: The new feature is free of charge and customers can re-download the revised Midifiles for free. Gradually, the lyrics will be synchonized into all Midifiles. A lot of work, thus the archive contain now over 12,000 items.
We are moving! | 15.06.2000
After a long time in 'Bismarckstraße' we move now to Schöneberg. Private flat and company are separated then.
After 15 years of work and many extra hours at weekends and in the evening, Mr. and Mrs. Geerdes deserves a bit more of free time. And this is just working if you are not just around the corner from the work and the computers 'calling' after you.
New Shop System | 13.08.2001
For us this means: less work, because the website is now less maintenance-intensive.

For you this means: more functionality, improved search features, special offers.
The MMC-NET is switched off | 15.06.2002
In the Internet era obsolete technologies are strong on the return trip. We also follow this trend after 8 years:

The MMC-NET is switched off.

Our dealers have received a new Internet-based software and the most part of our customers have changed already to our online shop.
Geerdes offers software again | 20.10.2003
With MidiText you get a small & fine program to include, edit any synchonize lyrics into Midifiles.

The software offers Windows users a lot of little helpers to do this work quickly and easily.

For details, see this page.
New Article Group | 01.07.2005
As of now we are expanding our repertoire with a new Article Group: Playbacks.
Playbacks would ordinarily be called semi-playbacks, backing tracks or sing-along songs because it is music without singing. It is also not about instrumental songs where the main melody is played by an instrument.
In short, we call these articles Playbacks. This is just shorter and as prevalent as a term (though not quite correctly).
VAT increase | 21.12.2006
On 01.01.2007 the new sales tax rate is introduced.
Therefore, we need to make changes to all our systems. Even to the online shop, which is closed from 31.12.2006, 3 o'clock in the morning until 1.1.2007, 2 o'clock in the morning.
New Article Groups | 28.06.2007
Since a few days we have the new article groups Pro-Playbacks and ProV-Playbacks online.
What is it? An answer and the differences to the normal Playbacks, information on Midifiles, Styles and Discounted Packs you#ll find on a short overview of our article groups.
On 27.07.2007 we are moving! | 12.07.2007
We're moving, and that on Friday, 27.07.2007.
On this day we will not be available by telephone and by FAX.
We will try to be to be fully operational on Monday, 30.07.2007.

The new address, we will soon announce in the imprint.

It goes from Schöneberg (translated as "beatiful mountain" - well, it was not so nice) to Kreuzberg (wonderful high ceilings, open space and air to breathe).
New Midifile formats for Yamaha devices | 11.12.2007
We are offering additional formats: XF format and files for Tyros1 and 2. The files are based on our 'normal' Midis adjusted by hand: More information.
TYROS3 files now available | 23.02.2009
As of now we are extending our offer to the Tyros3 format. In the next few days we will extend all files that are already available in Tyros1 and 2 formats to the Tyros3 format.

As always, purchased Midifiles can be downloaded free of charge in a different format. Just buy the files again. Our checkout system checks whether the item was paid before or not.
Campaign: Playbacks turn 4! | 01.07.2009
For the past 4 years we are selling Playbacks. This is what we celebrate with you:
Within the period from 01.07.2009 (from about 12:00 clock) until 31.07.2009 (up to about 12:00 clock), we will offer
the Playbacks to 4.99 € (instead 8.98 €)
the Pro-Playbacks to 5.99 € (instead 9.98 €) and
the ProV-Playbacks to 6.99 € (instead 9.98 €)
Birthday special: GEERDES turns 25 | 29.03.2010
On 1st of April we turn 25. As a special thank you to our customers, we offer a discount of 50% to all recording service orders (Midifiles & all variants of Playbacks), which are placed within 01.04.2010 and 07.04.2010 trough our order-form.

Except:
All 'exclusiv' recording servcice jobs
Title of the genres classic, jazz or musicals
Complex titles

We reserve the right to reject any orders to be able to maintain our daily operations. Please note that for any of such discounted orders, the maximum production period may be longer as usual.
GEERDES goes Facebook and Twitter | 23.04.2010
GEERDES music moves with the times and post his feeds now on the WEB 2.0:
midimusic.de got a new look | 29.10.2010
After we have updated the online store now all other pages of our website have been adjusted accordingly.
A few small construction works have to be done but basically the "conversion" is completed.
If you discover any page having a bug or inconsistencies, please contact us.
Tyros4 Midifiles now available | 01.12.2010
All Premium-Midis will be extended by the Tyros4 format step by step. New Premium-FIles (update after 01.12.2010) will not contain the XT (Tyros1) format.
The updating of the existing Tyros4 Files is expected to be completed by the end of next week.
Campaign in May: Geerdes's birthday | 01.04.2011
Another year is over. And since 1 April 1985 so much has happened. Who would have thought that 26 years later we are sitting at the computer and are able buy songs with a few clicks.
Also the tranfromation from software programming to be an online shop for Midifiles & Playbacks, no one could have guessed. We are very pleased with how it has come and hope you're feeling the same way.
To thank you we will start in May a little birthday campaign. Let us surprise you.
Playbacks now the first 24 h for half price | 14.04.2011
The same way Midifiles are reduces for the first 24 hours also our Playbacks will be.
And it also applies the following:
The discount is valid within 24 hours after publication
The discount applies only to the purchase via download
The discount does not apply to postal deliveries
New prices as from 05/02/2011 | 02.05.2011
We have made some small price changes.
The main change is that we reduced the amount of different price categories for Midifiles from 10 to 5. The new prices have been adjusted accordingly. And also there is now a fixed discount for all prices.
The new price list is available here, the discount levels and explanaitions here.
Studio operational | 07.10.2011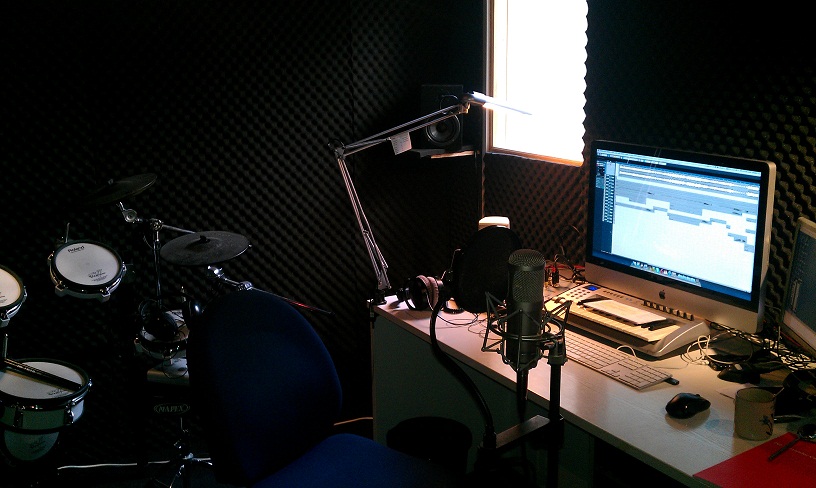 To improve the quality of our Pro- and ProV-Playbacks, which are usually produced in-house, we have built a small recording studio into the office.
Also vocals can now be recorded and mixed in an improved quality.
In addition, the cabin reduces the noise level a lot... Silence in the office.
In short: we all are very happy.
Payment methods extended | 06.06.2012
First, we have changed the aquirer of credit card payments. Thus, we can now offer DINERS in addition to VISA, MASTERCARD, AMEX & JBC.
Furthermore with this step we have optained the possibility to increase the number of Online Bank Transfer Aquirers.
In addition to GIROPAY we now offer DIRECTEBANKING, ONLINE BANK TRANSFER, IDEAL, NORDEA SOLO & EPS (NETPAY).
SKRILL.COM has been added as Online Payment Sercive.
Pay with PayPal | 18.06.2012
Today we finally integrated PayPal. Additionally for USA Mazooma (Online Bank Transfer) and for Australia POLi (Online Bank Transfer).
Last payment via Click&Buy on 30.06.2012 | 21.06.2012
With effect from 01.07.2012 we don't offer Click&Buy as payment option any more.
By integrating Skrill and Paypal Click&Buy for us is no longer necessary for us as a payment processor. Many of our customers had significant problems with Click&Buy especially this year. We think this decision is the best for us and our customers.
Get Midifiles for Tyros5 and the whole Korg Pa-Series | 19.11.2013
In December 2013 we start to offer adapted Midifiles for the new Yamaha Tyros5. In this context we won't adapt for Tyros2 any more.
We also add the Korg Pa-Series for Korg users to our adaption list. Therefore we are able to serve all users of the following Korg devices with adapted Midifiles:
Pa3X
Pa2Xpro
Pa1X
Pa900
Pa800
Pa600
Pa500